MY TAKE ON THE PARK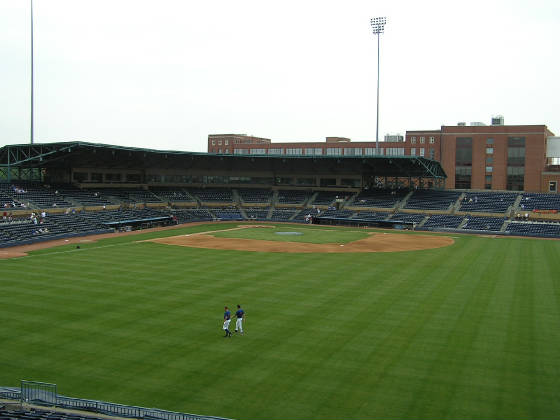 WHEN YOU ARE NOT FROM THE AREA YOU THINK YOU ARE MISSING OUT ON SOMETHING WHEN YOU ARRIVE AT THE PARK. EVERYONE IS PARKING ON THE STREET AND YOU ARE FOLLOWING THE GUY WAVING THE ORANGE FLAG FOR PARKING. WHAT THE LOCALS KNOW IS THAT IF YOU GET THERE EARLY ENOUGH, YOU CAN SAVE THE $3 PARKING.
THE GARAGE ATTENDANT IS THE FIRST OF MANY FRIENDLY FACES YOU WILL MEET IN DURHAM.
PARKING IS NEXT TO THE NEW TOBACCO MUSEUM WHICH YOU WALK THROUGH TO GET TO THE PARK, THE RUNNING WATER OUTSIDE ADDS TO A VERY PLEASANT ALL AROUND EXPERIENCE. APPROACHING THE TOBACCO MUSEUM, A BURST OF NEW AIR CONDITIONING AIR HITS AND THEN YOU TAKE A 30 YARD WALK THROUGH THE MUSEUM.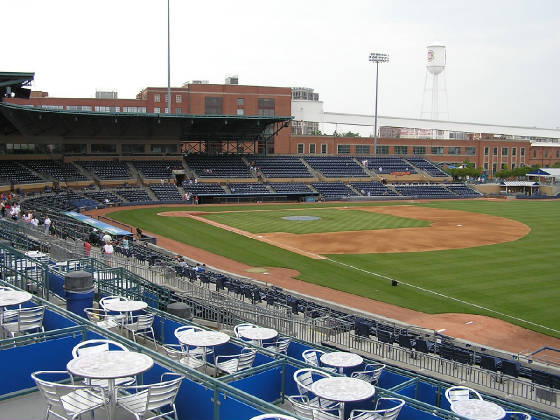 LIKE BALTIMORE, THE AREA AROUND THE BALLPARK IS IDENTICAL BRICK WHICH GIVES A VERY GOOD FEEL TO THE PLACE. WALKING THROUGH THE TURNSTILES YOU RECEIVE A COMPLEMENTARY PROGRAM, WHICH SEEMS TO ALMOST BE STANDARD IN SOUTHERN PARKS. ALSO LIKE BALTIMORE, THE TICKET TAKERS AND USHERS ALL REALLY SEEM TO LIKE WORKING HERE.

UP ONE OF TWO STAIRCASES TO THE CONCOURSE WHICH RUNS THE LENGTH OF THE PARK AND IS FILLED WITH STANDARD AS WELL AS LOCAL CONCESSION CHOICES, MY
FAVORITE BEING DILLARD'S BAR-BE-QUE WHERE ONE BARBECUE SANDWICH LEFT ME
CRAVING ANOTHER, AND IF I HAD ROOM, ANOTHER.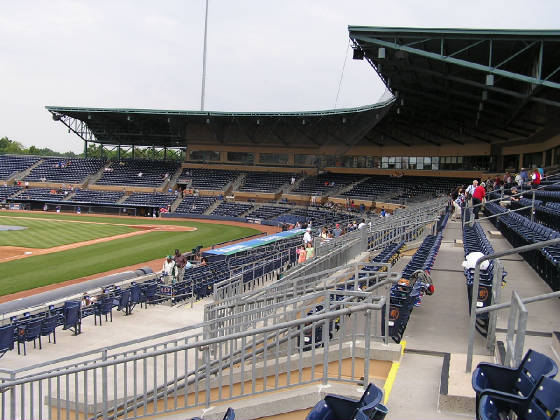 MY ONLY KNOCK ON THE PLACE WOULD BE THAT THEY ONLY GIVE YOU 2 ENTRANCEWAYS INTO THE SEATING AREA, WITH EVERYTHING DONE SO RIGHT, I WAS SURPRISED TO SEE THIS.
ONCE YOU ENTER YOU NOTICE THREE THINGS; GREEN GREEN GRASS, BLUE (SEATS AND WALL), AND SPACE!! SPACE IS EVERYWHERE HERE. EXTRA WIDE AISLE SEPARATING THE BOX SEATS FROM THE
RESERVED SECTION, LEG ROOM BULT FOR PEOPLE WHO ARE 6'6" NOT 4' 4' ...
THE SEATS ARE QUITE COMFORTABLE AS WELL. THEY KNEW PEOPLE WOULD WANT TOGET UP DURING THE GAME FOR ONE OF THOSE "FLYING BURRITOS" AND THEY DIDN'T WANT YOU TO HAVE TO SQUEEZE PAST PEOPLE WITH ONE.
SITTING IN COMFORT WITHOUT PUTTING YOU KNEES IN THE ROW IN FRONT OF YOU ENHANCES THE EXPERIENCE TREMENDOUSLY.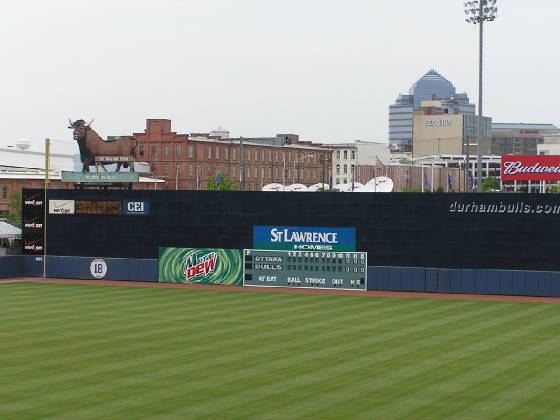 THERE ARE TWO SCOREBOARDS IN THE PARK,ONE ON THE LEFT FIELD "BLUE MONSTER" A
HAND OPERATED FENWAY PARK STYLE SCOREBOARD(NOT A FAN OF THE HAND OPERATED BOARD, BUT IT LOOKS GREAT). ABOUT 550 FEET FROM HOME PLATE IS A VIDEO BOARD WHICH HANDLES PLAYERS PICTURES AND BETWEEN INNING HIGHLIGHTS.
THE PA ANNOUNCER IS AN ADVENTURE, MOST NAMES ARE MISPRONOUNCED AND THE SOUND SYSTEM IS LACKING.
THE DISTINCT FEATURE OF THIS PARK, IS LURKING OVER THE LEFT FIELD CORNER. THE FAMOUS
SNORTING BULL STANDING ON A GRASSY FIELD.
"HIT BULL WIN STEAK"
"HIT GRASS WIN SALAD"
THIS PHRASE KIND OF STAYS WITH YOU ...
THE BULL IS JUST SO PERFECTLY PLACED OVER THE WALL. ON A HOME RUN SMOKE IS BLOWN THROUGH THE BULL'S SNOUT AND HIS EYES TURN RED
... IT DEFINITLY WORKS!!

A TRIP TO SEE THE BULLS IS GREAT, NICE PEOPLE, DELICIOUS FOOD, AND AN
ORGANIST THAT IS IN THE STANDS WITH THE PEOPLE. ON THE WAY OUT, INSTEAD OF SITTING IN TRAFFIC, TAKE A LONG STROLL THROUGH DURHAM'S PAST WITH ANOTHER VISIT THROUGH THE TOBACCO MUSEUM.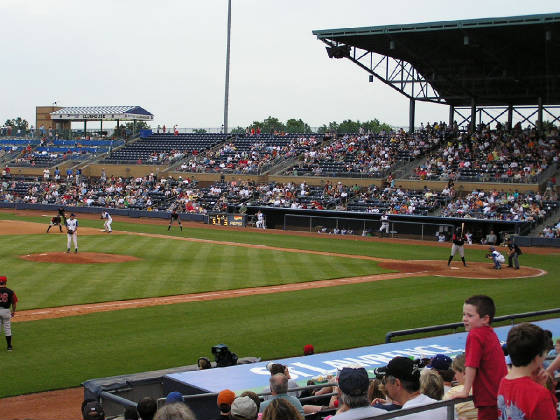 THE LINE UPS
OTTAWA LYNX MANAGER :::
28 Dave Trembley
DURHAM BULLS MANAGER :::
20 Bill Evers
OTTAWA LYNX

34 Bernie Castro 2b

16 Tim Raines Jr. cf

43 Walter Young dh

44 Alejandro Freire 1b

14 Bobby Darula lf

9 Napoleon Calzado rf

20 Enrique Wilson ss

18 Eli Whiteside c

10 Ed Rogers 3b

50 James Baldwin p

39 Brian McNichol WP

21 Tim Byrdak S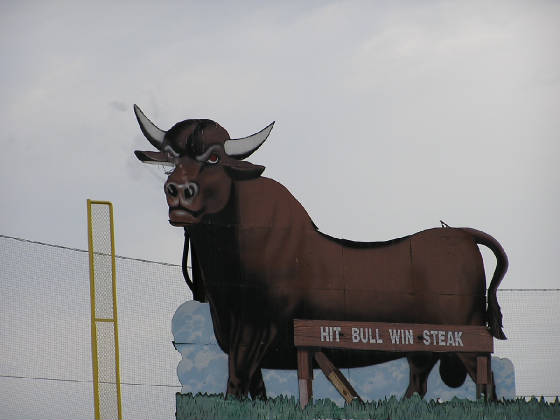 DURHAM BULLS
1 Joey Gathright cf

22 Reggie Taylor rf

2 B.J. Upton ss

31 Jonny Gomes lf

30 Eric Munson 1b

39 Pete LaForest c

34 Earl Snyder dh

11 Paul Hoover 3b

4 Brooks Badeaux 2b

40 Jason Phillips p

27 Tim Corcoran LP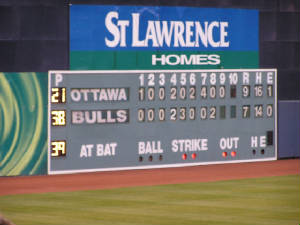 OTTAWA LYNX 100 202 400 9 16 1
DURHAM BULLS 000 230 020 7 14 0
TIME ::: 2:55
ATTENDANCE ::: 6,425
WEATHER ::: 78 Drizzle / very humid
SEND ME AN E-MAIL

LINKS
The Official web site of the Durham Bulls
A look at what has become of where the Bulls came from - My Durham Athletic Park site
Durham weather from Weather.com
© 2000-2012 UNCLE BOB'S BALLPARKS
I AM IN NO WAY AFFILIATED WITH ANY OF THE TEAMS ON THIS PAGE ... THIS PAGE IS MEANT FOR INFORMATION PURPOSES ONLY.